I look forward to assisting you with your home purchase or sale! My team will work very hard to meet your needs in local knowledge, property marketing, and sales price trends. I am native to Union County but have lived in the hot real estate markets of New York City and the Bay Area of California. I know what it takes to make your aspirations a reality whether the market is strong or weak. My expertise in negotiating multiple offers, financing investment properties, purchasing townhouses, or marketing luxury homes will work hard for the best outcome for you!

In addition to a Bachelor of Science in Accounting at Lehigh University, I have an MBA in Finance and Marketing from Fordham University. As a trainer for the National Association of Realtors I can ensure that you are getting the highest level of support and expertise for your home purchase or sale. At Keller Williams I serve on the Associate Leadership Council(ALC), and work to guide the office in being the best in the business. Give me a call today to assist you with any real estate needs.
BARBARA LEWIS EARNS PLATINUM AWARD FOR 2017!
How to Make Your Loan Process Seamless
Spring may bring thoughts of your dream home - and being prepared to go through the mortgage loan process is one of the most important steps! Working with lenders from multiple financial institutions, I recently interviewed top mortgage brokers to give you some insight into making the process as efficient as possible.
Your credit score is one of the most important things to consider. While you may want to jump into a report to review the number, looking at the details of your score report can be even more important. A colleague at Wells Fargo advised that it's true, you don't want to have your score run multiple times by multiple institutions. He advised that you should get a free report and resolve any issues such as an incorrect delinquency. Reducing the amount of credit available to you by closing accounts will also improve your score by indicating that you are not over leveraged.

Another tool to streamline your purchase is to ensure the seller of the home you are interested in has the highest level of confidence in your ability to purchase. When an offer is presented it typically includes an indication of the buyer's ability to finance. This can be a Prequalification, Preapproval or Credit Approval. Top loan officers advise that none of these terms represent a commitment to lend. The lender will not provide that until an appraisal has been performed and satisfactory title documentation is attained. However, the qualification provided to the seller is important. Here are the differences in the types of qualifications:
PREQUALIFICATION - Generally this is a non-verified estimate of the amount a buyer is qualified to spend. You can call a lender or use an online brokerage. Since the credit and income are not verified it is the lowest level of confirming the buyers ability to finance the property.
PREAPPROVAL - It's typical for lender issuing a preapproval to have verify the buyers income and credit score. This indicates to the seller that the lender has taken the first step to ensure the buyer will be able to meet the monthly financing obligation.
CREDIT APPROVAL - Some banks offer this and determine that buyers have passed the first underwriting review. It is the strongest letter that sellers can receive about a buyer's ability to finance a purchase.

The mortgage loan process is often the most challenging part of your home purchase. If you If you are considering buying a property this year I'd be happy to connect you with a local Loan Officer to assist you in the steps you may want to take to improve the process!

NEW LISTING in ATTORNEY REVIEW!
30 VILLAGE DRIVE BASKING RIDGE..
Offered for $399,000
7 Reasons to List Your Home This Holiday Season
Every year at this time, many homeowners decide to wait until after the holidays to put their homes on the market for the first time, while others who already have their homes on the market decide to take them off until after the holidays.
Here are seven great reasons not to wait:
1) Relocation buyers are out there. Many companies are still hiring throughout the holidays and need their employees in their new positions as soon as possible.
2) Purchasers who are looking for homes during the holidays are serious buyers and are ready to buy now.
3) You can restrict the showings on your home to the times you want it shown. You will remain in control.
4) Homes show better when decorated for the holidays.
5) There is less competition for you as a seller right now. Let's take a look at listing inventory as compared to the same time last year.
6) The desire to own a home doesn't stop when the holidays come. Buyers who were unable to find their dream home during the busy spring and summer months are still searching!
7) The supply of listings increases substantially after the holidays. Also, in many parts of the country, new construction will continue to surge reaching new heights in 2018, which will lessen the demand for your house.
Bottom Line

List your home for sale as soon as it is ready.
Another important consideration in timing the sale of your property is the competition. As shown above, the number of homes available for sale has been lagging for the past 12 months. If your property is for sale when less homes are available, buyers will be more likely to make an offer. Give me a call if you would like to discuss how this national trend impacts you!
Why Sell Now Instead of Later? The Buyers are Out Now
Each year, most homeowners wait until the spring to sell their houses because they believe that they can get a better deal during the normal spring buyer's market. However, recently released data suggests that a seller's best deal may be available right now. The concept of 'supply & demand' reveals that the best price for an item will be realized when the supply of that item is low and the demand for that item is high. Let's see how this applies to the current residential real estate market.

SUPPLY
It is no secret that the supply of homes for sale has been far below the number needed for over a year. A normal market requires six months of housing inventory to meet the demand. The latest report from the
National Association of Realtors (NAR) revealed that there is currently only a 4.2-month supply.
Supply is currently very low!!


DEMAND
A report that was just released tells us that demand is very strong. The most recent

Foot Traffic Report (which sheds light on the number of buyers out looking at homes) disclosed that there are more buyers right now than at any other time in the last twelve months. This includes more buyers looking at homes right now than at any time during last year's spring market.
Demand is currently very high!!


BOTTOM LINE
Waiting until the spring to list your house for sale made sense in the past. This year is different. The best deal is probably available right now.

Calling All Buyers!
In most of our local markets there are more homes for sale now than there were over the summer. That is great news with more selection for you as a buyer, and less competition as there are multiple homes for buyers to choose!
For example, in Westfield, NJ inventory levels have been steadily rising:



Window of opportunity!
If you were considering a home purchase in 2017 to upgrade or stop paying rent, it's an excellent time to make your move! Many sellers that intended to sell property this year have not been able to attain a sale. They will be more flexible in considering offer terms and potentially more negotiable on accepting an asking price lower than they initially planned.


Tax breaks


If you're a buyer who closes escrow before December 31, and you may get a nice write off on your taxes. "Property tax and mortgage interest are both deductions you can take for your whole year's worth of income, even if you closed on your home in December," David Hryck, a New York, NY tax adviser, lawyer, and personal finance expert told

Realtor.com





. "Any payments that are made prior to the closing of the loan are tax-deductible. This can make a serious difference in the amount you owe the government at the end of the year."





There are also potential tax breaks for home sellers. "You can include all sorts of selling expenses in the cost basis of your house," said William Perez from

The Balance

. "Increasing your adjusted cost basis decreases your capital gain because this is what's subtracted from the sales price to determine how much of a gain - or loss in some cases - you've realized. If you have less of a gain, you're more likely to fall within the exclusion limit, and if you're gain isn't excluded, you'll pay taxes on less." And that's just the beginning. Closing costs and home improvements may also be write offs for sellers. Check out the

full list here

.



Home for the holidays


Buy or sell early in the fall and you could be nicely situated in your new home in time for the holidays and before winter weather hits. Moving during a calmer time of year also means you may have better access to movers and other necessary resources than during the busier spring and summer seasons.





Great deals on stuff to fix up your home
Coordinate the timing right, and those items you need to fix up your home for sale in the fall or update and upgrade after a purchase might be priced to your advantage. Check

Consumer Reports

for a full list of the best times of year to buy everything, and keep in mind holiday sales. You could score some great deals at this time of year.the reader's attention. Direct them toward an action, write a short summary, or present key links/information.



Essential Tips to Sell Your House
This Summer
Prep your home to look its best during real estate's hottest selling season
If you're planning to list your home this summer - and hope to sell in time for the school year - the clock is ticking. Even before you meet with me, prep your home so you can capitalize on the sizzling summer selling season, when 60% of all homes are bought and sold!

Here are 6 essential steps to take now to be sale-ready by Labor Day:

1. Tackle the obvious repairs

Start by tackling all the necessary and obvious repairs. The idea is to prevent potential buyers from being distracted by chipping paint, scuffed-up floors, and leaking gutters as they tour your home. Instead of making a mental list of what needs to be fixed, they'll be able to focus on your home's positive qualities.

You'll save time (and money) by eliminating needless negotiations over minor repair issues. Handling repairs ahead of time saves you from the estimated, and often overinflated, cost of repairs the buyers claim. Your actual cost will almost always be less than a buyer's post-inspection estimate.

2. Remove your clutter and junk now

Clutter eats equity and kills deals. Period. It's time to declutter and free up space in your home. Evaluate each item in your house and either save, store, scrap it, or sell it. Remember: less is more to make a home sellable.
Once you've thrown out unused items, organize the rest. Living space is a precious commodity; play it up to give your home a sense of expansiveness. Buyers will be naturally drawn to a home that feels bigger.

3. De-personalize your home

It's time to take down the personal collectibles, family heirlooms, and school pictures. Not that these treasures aren't amazing - I have a house full of family heirlooms, but now is not their time in the spotlight.
When it comes to selling your home, a blank slate will appeal to potential buyers. They want to visualize themselves in the home, and your memorabilia is getting in the way of that, so put it away.

4. Remove anything polarizing

When preparing your home for sale, remove any controversial elements such as religious or political items. These items tend to elicit a strong emotional reaction - don't give the buyer a chance to prejudge your home because of your political or religious beliefs.

5. Pump up the curb appeal

First impressions are everything, and a polished facade is sure to bring buyers in the front door. Take advantage of the summer growing season. This is the time to plant grass and flowering plants, and don't forget to trim the trees and bushes.

By sale day, your curb appeal - the way your house looks from the street - will be in full bloom and ready for the stream of potential buyers. Remember, you never get a second chance to make a first impression. That's why curb appeal is so critical.

6. Get a reality check

While we all have an idea of our home's value, these self-appraisals are rarely objective. Give yourself a reality check by meeting with an experienced agent. Agents see the home impartially with a buyer's perspective.

Get to know the competition by exploring similar homes on the market in your neighborhood. A quick survey of the competition's features and list price will be immensely helpful in picking the perfect list price for your home.

Get a head start on the summer sale season by preparing your house (and yourself). I would love to offer individual pointers and you'll each have a realistic view of what your house is really worth!

CENSUS BUREAU
QUARTERLY RESIDENTIAL VACANCIES AND HOMEOWNERSHIP, FIRST QUARTER 2017



The Census Bureau recently released the Quarterly Residential Vacancies and Home ownership Report, showing that home ownership rates continue to be low. As rental housing demand strengthens, rents and property values increase. The above chart shows that home ownership rates are the lowest they have been in 10 years and have remained low for over a year. It's an excellent time to capitalize on the demand for rental housing!
Rental demand in the Northern New Jersey market is strong, and can be an excellent way to diversify your investments. The National Association of Realtors(NAR) tracks activity and NAR's 2017 Investment and Vacation Home Buyers Survey has just been released.
Some interesting highlights include:



In 2016, the share of buyers who purchased a primary residence rose for the third year to 70 percent from 65 percent.
The share of vacation home buyers declined for the third straight year to 12 percent from 16 percent.
The share of investment buyers remained unchanged at 19 percent for the third straight year.
If you would like the full report just let me know and I'd be happy to provide the full research for you. If you are considering an investment property purchase or sale let me know if I can assist you in determining the market value of the property.



​
ECO-SMART HOME PRODUCTS
Advances in technology have paved the way for cool, inexpensive consumer products for your home. Mark Stephenson of Vermont Energy Contract and Supply says, "Many of these smart products have come down in price to be affordable for the average homeowner and offer conveniences that we have grown to expect with our expanded use of wireless and B in our daily lives. However, when it comes to mechanical systems like heating, electricity, and efficiency savings by using devices like Nest Thermostats, it's important to consult with a professional electrician or technician to make sure these products will truly improve the performance of your home." Following are examples of great product ideas to help make your home smart, efficient, and secure.
Smart Detectors
Not an exciting gift idea, but definitely a practical one and great for a new homeowner, the Protect smoke and carbon monoxide detector by Nest has received rave reviews. The smart alarm provides voice alerts when there is cause for alarm and will tell you the exact location of the smoke/CO in your home. With the Nest app, you'll receive custom alerts on your phone, including low-battery and sensor failure notifications. You'll also have the ability to silence it from your phone, a nice feature for those false alarms when cooking in the kitchen. Guaranteed for a decade. Easy to install. iOS and Android. Available in two colors.
Smart Locks
No more duplicating house keys or leaving one under the welcome mat. With the August Smart Lock now you can grant home access to expected guests or service providers from your phone or smartwatch. Using the app, you can create custom virtual keys for each visitor and grant entry for any length of time, whether it be for weeks or minutes. You'll receive phone notifications identifying each visitor as they come and go. This smart electronic lock will unlock when you approach and automatically locks behind you. Together with the aforementioned August Doorbell Cam, you can even unlock (and re-lock) the door from your app if an unscheduled visitor needs access. iOS and Android, Apple Watch. Available in four colors.
Smart Home Security Cameras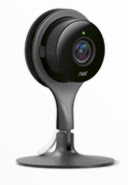 Many homeowners are outfitting their homes with camera systems to feel more secure when they are away. This security system, called Nest Cam and distributed by Nest, has tiny cameras that send you phone notifications when motion or noise is detected in your home. As long as your cameras are on, the video is being securely streamed to your cloud account and you can view anytime from your phone, tablet or computer. The camera's two-way speaker also allows you to hear what's going on and speak to anyone in the room if needed.
Bluetooth Light bulb speaker
There are a ton of bluetooth speakers on the market today, but do any double as a lightbulb and a dimmable one at that? Another first of its kind product from Sengled, the Pulse-Solo system combines energy-efficient LED lightbulbs and bluetooth audio. Now your music can be pumped from your lights and we think it sounds pretty good. That's because the high quality speakers are JBL-Harmon made and you have the option of connecting up to eight lights to the system. An add-on adapter also gives you the ability to easily integrate any subwoofer speaker unit you already own. With the Pulse app, you control volume and lights. Available in three colors.